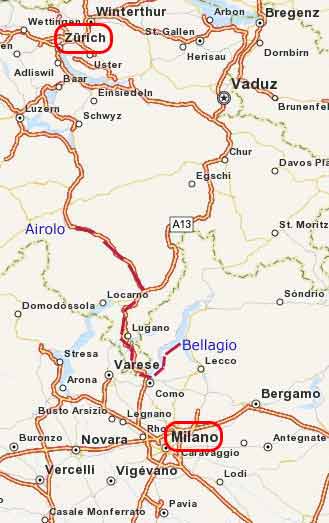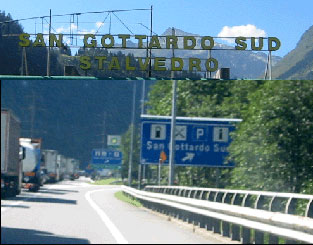 Next day – Thursday, August 26, 2010 – it was time to leave Bellagio and Italy and return to Switzerland.  First, we had to drive using the same narrow and picturesque road along lake Come and enter Switzerland through Chiasso.  Just a second ago we were driving on a busy Como street with buses and usual city traffic, and all of a sudden – the Swiss border – and we are driving on a busy Chiasso street.
At 11:23 we couldn't find a soy yogurt in Consorzio Agrario – an Italian supermarket in Bellagio, and at 13:08 we couldn't find a soy yogurt in Coop Supermercato on via Maestri Comacini 10 in Chiasso.  Instead, we bought deodorant for men, red globe grapes, nectarines and spinach.
Now, our path was back to the Alps.  We took the only possible highway 2 and with precise 110 km/h steadily advanced to the north.  We reached the rest area just before the St Gotthard Tunnel and were forced to "rest", because of a significant traffic backup.  For the first time during our vacation we were facing an unpleasant realities of tourism – a possibility of traffic.
Instead of waiting in line for hours, we parked at Sun Gottardo Sud (South) rest area, and decided to walk a couple of remaining miles to Airolo and check into some great hotel.    We crossed the river barefoot, we put on our boots, and climb a steep brushy hill to reach a local road.
Airolo is a very small town – last Italian-speaking outpost in the province of Ticino before the Passo del San Gottardo and German-speaking Andermatt in the province of Uri.
Few hundred yards down the road a bus picked us up.  We just climbed on board and took seats.   In a few minutes we arrived to Airolo Bus and Rail Station. I paid the driver no more than 7CFH.  Here at the station we met the most amazing tourist info guide (a lady), who explained to us all our options, made a reservation for us in a hotel, changed 200 CHF into a smaller notes and even explained how to get back to the car using more picturesque path.  Wow!
Instead of going to a dark room for 90 CHF we wondered around and saw what else id out there.  We end up in a hostel Alloggio Girasole.  We got a double room with 4 beds and restroom down the corridor for 68€ or 95 CHF per night.
During our search for the room we learned that prices here are non-negotiable.  In Italy you can easily negotiate room price 20-30€ down.  Here we couldn't get a single Swiss Frank down.  Moreover, we even encounter change of tone and cold looks, when trying to negotiate price down.  So do not do it.  Just walk away.  Look for a place where you like both the views and the price.
After European supper (dinner in America), we walk back to the car along the rail-road tracks, bridges, tunnels, maze of walking trails and evening quietness.  This time the traffic before the tunnel eased, and we drove back in under 5 minutes.  The stage was set for our tomorrow's trip to the pass and the lakes.
(Visited 34 times, 1 visits today)
Navigate through the List
01 Preparation for the Swiss Trip in August 2010

(2017/07/25)