09:00
2017-09-10 SU Moving Sunday games to Brown
2017-07-30 SU We are back to WARREN both SAT and SUN
2017-07-16 SU We will play Sundays games on Brown
2017-04-23 SU We are moving to Warren
2017-01-29 SU – There will be no statistics till Sunday, January 29.
2017-01-02 MO – New Year holiday Bonus Game (unofficial)
2016-12-30 FR This is how we looked exactly 10 years ago – 2006-12-31 – Newton Brown field (see picture below)
2016-12-26 MO – Christmas Special game
2016-11-27 SU – From now on – only SAT and SUN games at Brown.  Unfortunately lights are out on WED
2016-11-24 TH –  Thanksgiving – BROWN
| | |
| --- | --- |
| | |
| 2006-12-31 | 2016-12-31 |
2016-11-09 WED Stas M. found a lighted field on the border of Newton and Brighton
2016-09-10 SAT we moved to BROWN – they jut installed new nets
2016-08-17 Continue on Warren despite terrible grass conditions
2016-06-25 – We moved back to WARREN
2016-June – We will play next several Saturdays on Brown

Here are our CHAMPIONS for previous 24 seasons:
Season
Year
Session
Weekend
Wednesday
26
2017
2 Summer
Arkash B.
Dr. Yurik
N/A
25
2017
1 Spring
Ilya B.
N/A
24
2016
3 Fall
Cüneyt
Boris M.
Dr. Yurik
Arkasha B.
N/A
23
2016
2 Summer
Dima K.
Dr. Yurik
Yura M.
N/A
22
2016
1 Spring
Zhenia T.
Sergey K.
N/A
21
2015
3 Fall
Ruslan
N/A
20
2015
2 Summer
Alex Grt
N/A
19
2015
1 Spring
Zhenia T.
Alex Grt
N/A
18
2014
3 Fall
Alex Grt
N/A
17
2014
2 Summer
Alex Grt
N/A
16
2014
1 Spring
Alex Grt
N/A
15
2013
3 Fall
Lenia Ch.
N/A
14
2013
2 Summer
Cüneyt
N/A
13
2013
1 Spring
Zhenia A.
N/A
12
2012
3 Fall
Alex Grt
Vlad 2
Yura D.
Victor
11
2012
2 Summer
Alex Grt
Damon
Yura A.
10
2012
1 Spring
Kolya P.
Zhenia A.
Sergey K.
Denis G.
9
2011
3 Fall
Alex Grt
N/A
8
2011
2 Summer
Misha P.
Alex Grt
7
2011
1 Spring
Dr. Yurik
N/A
6
2010
3 Fall
Vladis Sh.
Max
Ilya L.
5
2010
2 Summer
Stas M.
Erick
4
2010
1 Spring
Arnaud
Alex Grt
3
2009
3 Fall
Dr. Yurik
Boris R.
Vlad T.
Vadim L.
2
2009
2 Summer
Ilya L.
Matt
Boris R.
Kevin
1
2009
1 Spring
Vadim L.
Max
~~~~~~~~~~~~~~~~~~~~~~~~~~~~~~~~~~~~~~~
Memorial Day weekend:
2016-05-30 MON – WARREN
2016-05-29 SUN – WARREN
2016-05-28 SAT – BROWN
2016-05-22 SUN – WARREN
2016-05-21 SAT – We will play on BROWN this one time
2016-05-01 SUNDAY – Should we stay or should we go?
2016-03-27 SUNDAY – first game at WARREN
2016-03-26 SATURDAY – Plan to play an early 09:00 or late game 09:45
2016-03-16 – WEDNESDAY – first mid-week game
2016-01-01 – FRIDAY – We played at 10:00 on January 01, 2016
2015-12-25 FRIDAY      –  Newton South turf
2015-12-20 SUNDAY     –   First time on at Newton South turf
2015-12-19 SATURDAY – we played last time at  Warren
2015-11-26 Thursday 09:15 – Thanksgiving Day Football – all as usual
2015 – Fall Season is currently underway
All fields in Newton are open as of today, 2015-04-14 TUE:
 13
 Sunday, April 19
 Brown grass
 12
 09:15 Saturday, April 18
  South turf
 11
 09:15 Sunday, April 12
 Brown – Let's try grass ?
10
09:15 Saturday, April 11
Brown/South turf
 09
 09:15 Sunday, April 5
 Brown/South turf
08
09:15 Saturday, April 4
Brown/South turf – About to be kicked out
07
03-29 SUN 09:15
Snow is gone.  Weather is excellent. Expect too many people!
06
 03-28 SAT – 09:15
Season was re-stared – 15 people showed up
09:15 Saturday, March 28  – Old snow is out / New snow is in
N/A
 03-22 SUN  09:30
 The surface of the snow was very strong on Sunday, and it was a miss that we did not attempt to play earlier.  Good call – Zhenia T.!
| | |
| --- | --- |
| | |
| This is Newton South on Sunday, March 22 | This is Brookline field on March 07, 2015 |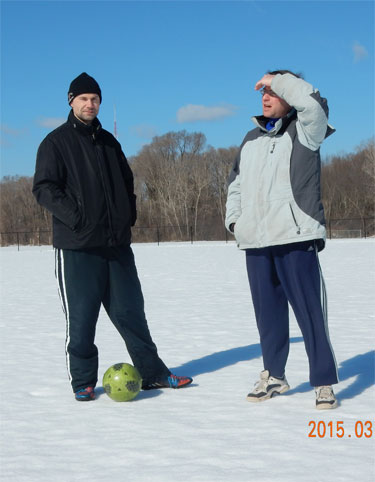 Brown / Newton South 09:19
Previous Games:
05 Jan 18 SUN
04 Jan 17 SAT
03 Jan 11 SUN
02 Jan 10 SAT
01 Jan 3 SAT
Brown / Newton South SAT/SUN-09:15
 2014
On August 20, 2014 we switched to Newton South / Brown.
Here are previous 20 World Cup Winners: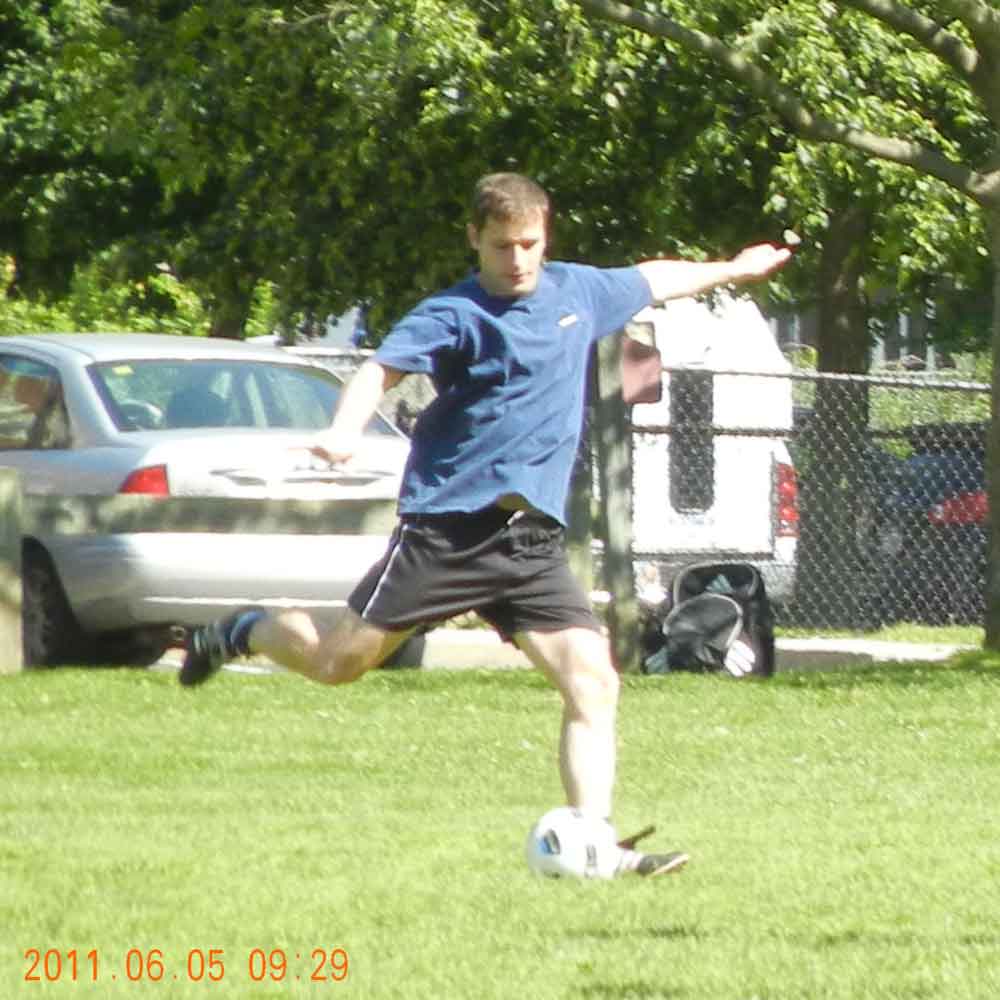 ***
Veterans
Memorial
Athletic
Complex
***
Here is our busy schedule:
Saturday – 09:15 – VMAC
Sunday – 09:15 – VMAC
Fall 2013 Season officially started on September 1, and will continue till December 31,2013.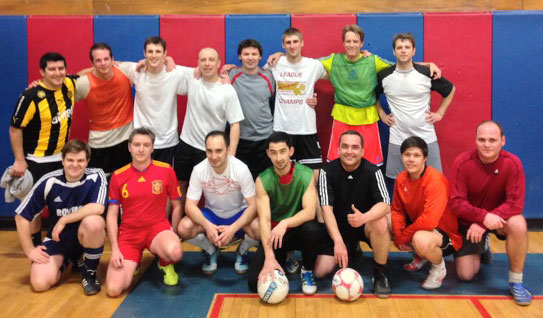 Note: there are no statistics during long weekends.
If you play regularly (3 times in any given month) you qualify to become a Yahoo! group member, where notification are sent regarding last minute schedules changes, venues, directions and cancelations.
Last two winters blessed us with very low snow levels.  We were able to play all winter long.   In Winter month we play at this field:
*** V M A C ***
VETERANS MEMORIAL ATHLETIC FIELD COMPLEX
It is located near Bentley College at 385 Forest Street in Waltham.
Main parking lot is closed.
Park behind the tennis courts and cross over to 3 fields complex behind a one-story building.
Use GPS for better results.
---
 Archive Materials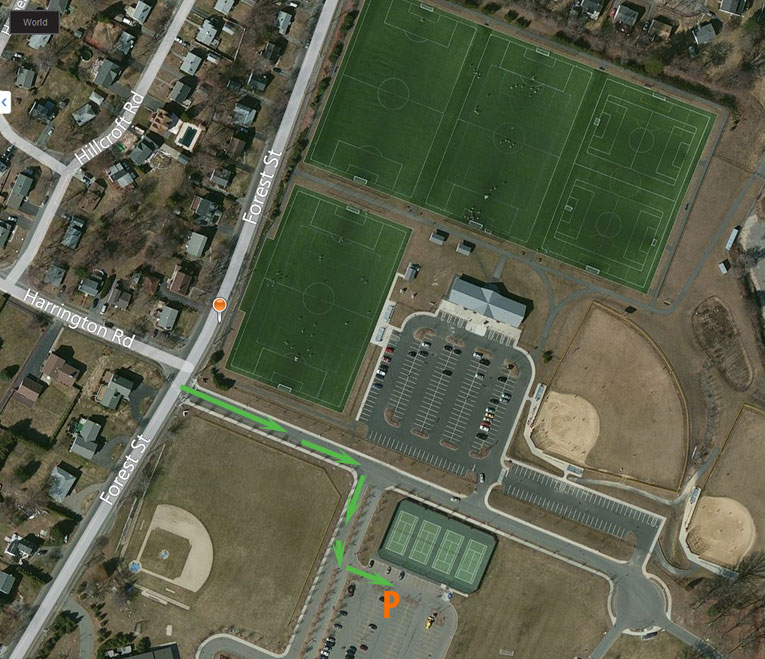 *** Our Seasons ***
We have 3 seasons in a year:
Spring Season: Jan – April
Summer Season: May – August
Autumn Season: Sep – December
---
Read about our history of PERMITS here.
---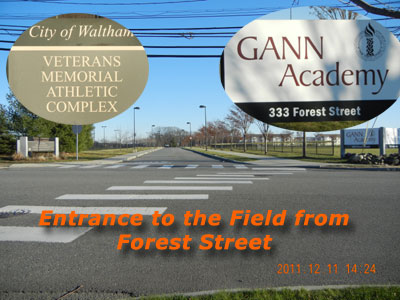 What about Skyline?
We will use Skyline, when snow piles high.
Snow melts mush faster at Skyline, due to a "compost" effect from the garbage bellow.
Many people already know the location.
It is sometimes very windy on a hill.
Thesre are goals of 2 sizes – full size and medium size.
We were kicked out of there several times in November and March.
j
---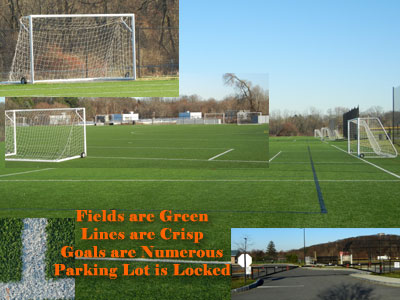 **** VMAC ****
It has small goals that is a must during low attendance winter months.
Park is built and dedicated in 2005.
Fields are phased in over the years.
Lines are crisp.
Many people already played there and love the field:
Oleg, Vadim L. and Nelson to name a few.
It has 3 full-size artificial fields with lines.
It also has 2 junior-size artificial fields with lines – simply amazing!
It means, if one field is taken, we always can play on other fields. That is a very important argument.
Complex has 3 different goal sizes (including Handball size)
Once again: It is important to have smaller goals, when attendance is low.
Our people were never kicked out of there.
Parking next to the fields is closed, but there is a plentiful parking about 75 yards away.
This weekend – No Statistics!
---
Research by Lyonya G: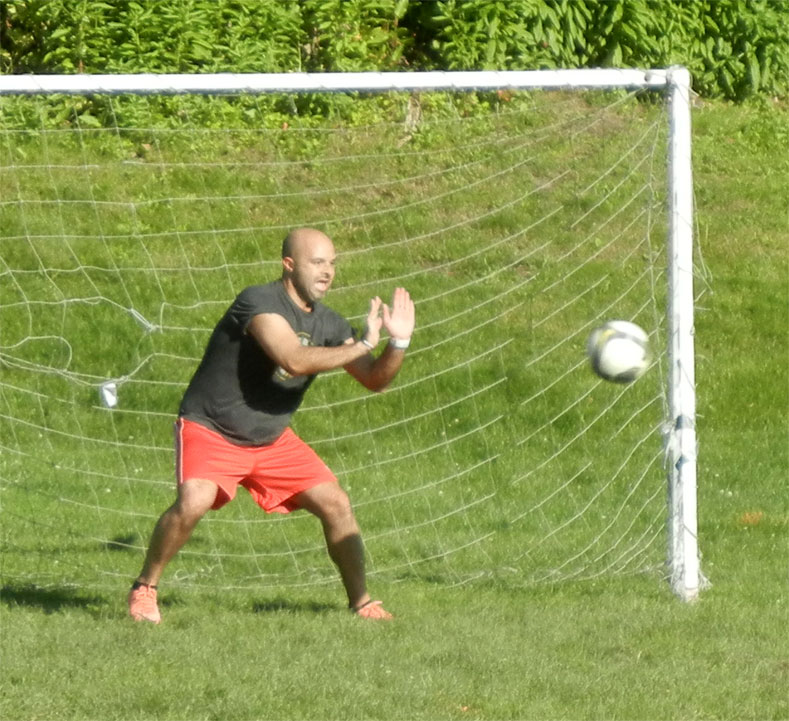 Guys,
I've done a little research, called Brookline, Newton, Waltham and Boston (for West Roxbury)
Departments of Parks and Recreation. Mostly bad, some good news.
Here's what I've found out
Millennium Park, off Rt 1 in W. Roxbury was considered in previous years, and its actually a decent option … for winter time.
Except it's on high grounds and it is always windy there. However right around this time of the year the fields get filled up there. I didn't get a call back from Boston's parks/rec permits dept, but the greeting on their line says that permit deadline passed and one can apply at the end of the summer for the fall, etc.
Maybe Cuneyt can still check out what's the story there – maybe ask people who walk dogs in the morning (always a good source) whether all fields have been full.
Skyline and Brown:
Starting this coming weekend it is the beginning of the season for permit holders, both Saturday and Sunday are booked 10 am to 7 pm by several school and league teams. This applies to synthetic fields at Skyline and Brown.
Brown's grass fields are off limits for another 1-2 weeks depending on turf conditions and police monitors those fields.
Waltham VMAC complex. The synthetic fields are booked starting Feb 1 according to them, and have not been used so far by permit holders because of the snow. They will start official play this weekend, both days are booked, till 5:30 pm. They have some times on weekend available, @ $50/hr for the field, and evenings only.
HOWEVER .. the good news out of all this – the 2 grass fields that are abating the parking lot at VMAC belong to Gain Academy,
not Waltham town. They are always empty, anyone can play there and they have goals (although only large ones).
More data would be good to have for the future – if some of you guys or people you know who live nearby all these fields,
it'd be good to check what's happening in the mornings on weekend anyway. (Maybe some permit holders don't use it and parks/rec depts have outdated info).
But I think Waltham is our best shot for now.
Incidentally all these fields are available in July and August, while schools are off, so for next couple/few weeks
we need to be patient, let Warren field turf reestablish itself.
Lyonya G.
---
Tu, We ,Th 17:30 Sa Su 09:15 Warren – We are back at Warren
SAT, SUN  09:00 – Warren + WED 17:15
---
(Visited 139 times, 3 visits today)