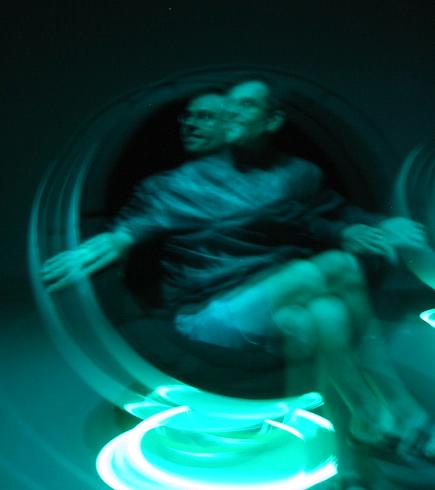 On the morning of August 20, Friday we woke up in Geneva.  You have to show your hotel receipts at the kitchen counter to get your breakfast.  Lots of people of all ages.  Some tourists, but some looked like ready to take off for work.
As usual, the roads were either under construction or blocked off.  It means GPS could not help us.   It was raining that morning.  It means pedestrians couldn't help us.  So, we improvised our detour driving towards CERN in Meyrin (right on the French border).  We planned to be here on Wednesday morning, but Fribourg and Montreux held us in their "chArms".
Public is no longer allowed under ground.  Actually, no one is allowed underground because Large Hadron Collider (LHC) is running, and generating harmful rays at a record temperatures.  It is buried 100m (300′) under ground, but there is plenty to see above the ground.

At 10:00 we joined a free English guided tour.  We were some lucky stand by(s). Our guide was a regular worker from IT Payroll services, but everyone has to rotate to perform this honorable duty.
– Who is it?
– It's a little particle.
– Please come in…
There is still an atmosphere of a little doubt in the air about billions spent here by multitude of nations.  So one of the main topics of conversation – what CERN gave back to earthlings.  And the shortest answer is WWW.   They believe that it is here the idea of universal reference on any conceivable topic over the network wires was born in 1989 with a first WWW server.
We still do not know, how composition of sub-sub-sub-micro world will affect our everyday life, but all previous experience tells us that it will.  There are no serious arguments against this research.  Everybody understands that this research is very remote from reality.   It is very fundamental.  It is also very breathtaking.  Particles research sounds like study of basics laws of arithmetic that refuse to cooperate.  A lot depends on how these laws will be written, and everybody is waiting on the sideline to see, who is winning.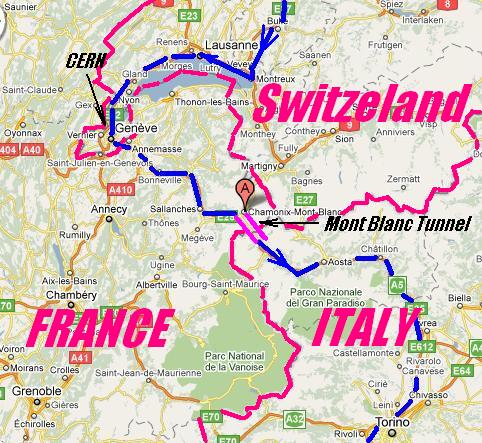 I will write about this much more one day, but we had to jump into the car and start moving south, towards Alps, towards Italy and towards warm weather.  To get to Italy we needed to go through Chamonix [shamoni] and Mont Blanc Tunnel.  So it will be our only afternoon in France.
Swiss to France border was a drive through, hardly even noticeable.  They only stressed that highway signs were green, but now they would be blue.
Reality-bite happened (15:41), when we stopped for gas.  Fifty litters (13.2 gallons) took a hefty 73€ out of Am Ex (about $94).  I remember it well.  We were in a French Le Fayet on route A40, and the mountains (Alps) only beginning to crowd around us.
Side road to the tunnel happened before Olympic (1924) Chamonix, so we missed it this time.  Instead, we started to climb up to the mouth of inter-country tunnel, that opened its toll booths back in 1960-s.  Right before the tunnel, we parked the car, opened our topographic maps and decided to walk up the mountains.
A short 20 minutes walk promised a glassier view and some food at the end.  We gained some elevation, took a quick peak at some slobs of melting ice – not impressive and too far, and finally sat down to eat at Le chalet du Cerro (1358 m).  That was our only meal in France.  It was a memorable place, because it is a little house, a little terrace in the woods, no insects, a colorful tasty food and very attentive homely service.  Perfect, all around.
Tunnel (17:59) took a few waiting minutes and another 35.10€.  Finally, after long 11 km and 611 m (about 7 miles) we entered Italy.  We noticed a heavy traffic going the other way back to France.  Apparently a lot of Italians were lining up to visit France for the weekend.
We drove straight to a tiny La Palud, to a familiar hotel Dente Del Gigante ("the tooth of a giant").  We stayed here 4 years ago, and we manage to negotiate 80€ rate for an excellent mountain view room.
(Visited 15 times, 1 visits today)
Navigate through the List
01 Preparation for the Swiss Trip in August 2010

(2017/07/25)