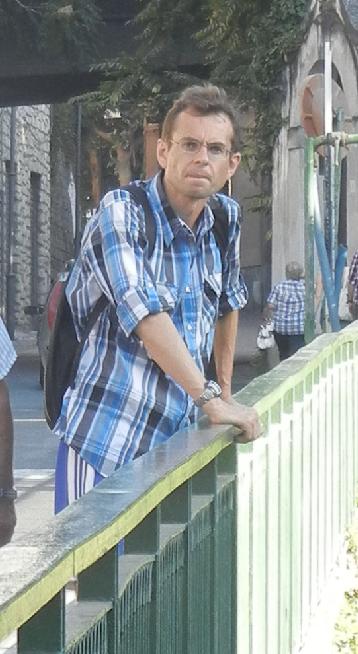 In the morning of 28-th we were anxious to get out.  On the one hand, our car was blocked on the hotel protected parking lot by two other cars, and on the other, we did not want to fight unfair Wi-Fi charges at the front desk with two load and obnoxious ladies.
But both our anxieties got resolved on their own accord.  Car got unblocked by a clever maneuvering, and a lonely front desk lady decided not to pick fight for unjust €5 with two of us armed with a copy of paper stating that Wi-Hi supposed to be free.  She was just throwing a fiery glances like a cobra in a pit.  But she could not charge, she could not sting, so she just did her checkout job quietly and methodically (09:46 – €152.40).
We set our GPS to Sorrento, and we drove right toward the Vesuvius to the heart of mid Italy vacation land.  We stopped on a highway just to take some pictures, and our total tolls were only €2.90 (10:13).  Our breakfast at Autogrill was minimalistic – two croissants and one coffee decafeinato (10:37 – €3.25)
We drove through and made frequent photo stops along the coast.  Another coffee we grabbed already in tiny Meta (11:50-12:20 – €.90).
While driving to Sorrento, make stops time to time to absorb color of the water and sheer drops into abyss
Make a quick coffee break in Meta. Half way between highway and Sorrento this place is very close to haven
Our supermarket stop (13:05) was important, because we spent a lot of time in the store.  In addition to our regular items Lira bought a bottle of wine (€5.60) that she liked from our restaurant visits (Total – €23.73).  We washed our fruits in the toilet in supermarket parking garage.  Here you have to stump your feet constantly to trough off and kill giant cockroaches with a "pleasant" crunch.  Not only cockroaches crowing on the floor, but they are fantastically big.  This was one of the exotic experiences.
Look at this private entrance to the room.  It was hard to find, but we were glad to discover this B&B
I can't recall what feminine name was this room called.  But it was superbly designed and spacious
We passed the center of Sorrento and continued climbing on the next hill.  We got a bit lost, and missed the desired turn.  We turned back and found only a one night in the hotel in my list.  It is a well-hidden B&B Relais Diana in a Sorrento location Priora (Via Santa Maria del Toro, 1), and it has a beautiful setting.  It is not the easiest to find though.
Tasso – Italian poet –  was born here 1544 in this city town hall
Only 66 percent of fixtures are working.  That is about right rate for elevator, escalators and a like.
We walked down using GPS navigation and found a closed Health and BIO store and restaurant at 16:45 (Mondo Bio).  We walk around, finding prices to train to Vesuvius, prices for a room around the station, and returned to ate at the BIO place around 17:45 (18:31 – €14.50).
Sorrento connects to Napoli by rail and boat and to Capri by boat and ferry
We thought this is about nudity, but it turns out to be about avoiding crowding and loud noises
We walk a few hundred meters to a train station (called here Vesuviana) to explore our options to reach Pompeii and Ercolano. Next we went down to the port, grabbed schedules for Capri ferries, and I even swim in the ocean on a small portion of a free beach. Then we climb back to the city.  Here, I for the third time I withdrew €500 from an BNL ATM machine (20:02) and we returned to BIO place – this time for dinner (21:41 – €34).
This church was noticeable in daylight, but it was really mysterious and fascinating at night
Summer night in Sorrento: Some street lamps were out, but we found our way back to the top
We climbed back in the dark using the stairs and a narrow passage between olive gardens, and were back in our rooms around 22:30.  It was a perfect, perfect 46-th birthday.
(Visited 60 times, 1 visits today)
Navigate through the List