[…in progress…]
Our bus to the train station was scheduled for 09:10, so we woke up at 07:30 and went down to have a large free breakfast. Fruits and eggs, and several cornetti (croissants).  Very good.
At the front desk I did buy  2 LEVANTO – LA SPAZIA unlimited one day train tickets with rights to use the Park trails (€10×2 = €20 cash). Five for usage of the park, and five for unlimited rides between La Spezia and Levanto.
We took a free hotel-provided shuttle at 09:10 to La Spezia train station, and at 09:26 I already validated the tickets in one of the yellow machines on the platform.  Single train ride from La Spezia to Levanto is €3.30.  And we needed several such rides on the train that day.
Our train at 09:56 was absolutely overcrowded till the first stop – Riomaggiore, and get more comfortable and spacious as we approached the Levanto.  We wanted to explorer the Levanto till 12:15, but I didn't find anything interesting there, and we decided to go back to Cinque Terre on the next available train – 10:51.
There are 5 spectacular villages on the main stretch of Cinque Terre Park counting from Levanto: Monterosso al Mare, Vernazza, Corniglia, Manarola and Riomaggiore.  All villages are connected by a spectacular walking trail number 2, and we were planning to walk entire 9 km of the path.  However, due to landslides, a portion between Corniglia and Manarola was closed this season, and we would need to bypass it on the train.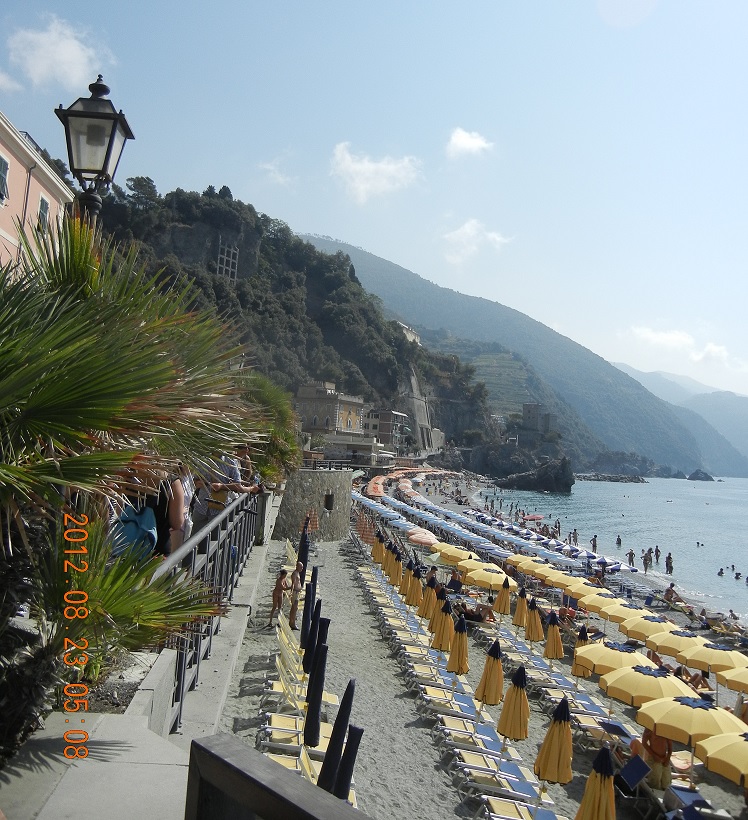 It was a dense stream of passengers that arrived on the train at Monterosso al Mare (11:04).  We crossed the tracks underground and emerged right at the sea side.  Where all these people would go?  Is it going to be that crowded on the trails as well?
Let's the magic begin!  Hot and cheerful atmosphere everywhere. Simply amazing. Let's get to the water every time we could.  No restricting signs.  Every stone is a perfect starting place for swim.  Water is so clear and pleasant that you do not want to get out.
Here at Monterosso al Mare we spent till 13:45.  We swam twice: once from sharp rocks, another – right from a dock.  Not a single oil spill in site.  Entire bottom is visible through the clear water. Even people do not disturb the clarity.  By the way, I can't find a word for the bottom of the sea that is visible through the water – not a sea-bed?
We ate right on time – very important for travelers – at Ristorante Belvedere (Piazza Garibaldi 38 – €24 – 13:38) located underneath the rail tracks with a view to the Ligurian Sea.
As you enter the trail, you see signs to prepare your tickets.  And they do check the tickets at a control huts at the beginning of the trails, but controllers are also people, and people are usually gone by 3PM.
The hike itself is very interesting and loaded with changing views and vegetation.  Path either surrounded by private gardens and vineyard from both sides, or you walk on the edge of abyss with a complimentary free fall all the way to the sea.  However this is not a complicated hike.  I put on sneakers, but Lira stayed in pretty flip-flops all day long. Just remember that you still need to walk up and down several kilometers.  And it is hot. And you probably want to have some kind of backpack with water and swimming gear, and some fruits and snacks; and your camera.  So, you will enjoy it if you like to walk and absorb, and take pictures and talk to strangers.  By the way, it was a busy trail, but not a crowd.  In the middle sections you might have a good 100 meters without seeing a single hiker.  So, perfect.
It took us about 2 hours to reach the next town of Vernazza (15:45).  We jumped into the water, but it was too shallow.  This town experienced a terrible flooding and mudslides on October 25, 2011, and there is some damage still visible, and ongoing reconstruction is a common site. However, by August 2012 Vernazza appears almost completely recovered.  Large colorful photos of devastation are exhibited everywhere, and if you desire to help, there are plenty of ways to contribute besides spending your hard-earned tourist dollar.
We ate kebob and Farinata (a Ligurian dish made with chickpea flour, water, salt and olive oil).  Lira heard about this food in documentaries, and after tasting it she noted: "No taste, no smell, no texture and no pleasure eating".
While eating, we noticed a lot of people coming out of and going behind the construction fence with prohibitive signs.  We ventured in, and found a passage to another hidden beach. To reach it one has to pass through a little tunnel and emerge on the other side beside the sea.  We discovered a perfectly peaceful beach, and town is almost invisible behind a giant mass of rock. This time the depth was just right.
Around 17:18 we started the next leg of the journey – a trail to Corniglia.  We started climbing, and once again admired the breathtaking views on receding Vernazza.  Middle of the path is less spectacular, and allows you to rest from the wonders of the world.  I called it a romantic and quiet middle.  Here you go through a tiny outpost – Località Prevo, consisting of a few houses, and with an aria of Puccini, Rossini or Bellini blasting through the speakers.
Next, we begin to approach Corniglia, and we noticed that this town is high above the sea on a cliff, and there will be no opportunity to dip into the water there.  But the setting is interesting and appealing.
Sun continued to be a factor. I tried to cover head as much as I could.  And we kept drinking many liters of water on our stops.  We arrived to Corniglia at 18:54.  Next section of the trail was closed, and we had to take very long set of stairs down to a train station.  We took a 19:31 train from Corniglia to the next town – Manarola.  From there, we had about one hour to walk a very short and pleasant Via Amore to Riomaggiore.  This is the easiest and most picturesque part of the trial number 2.
Around 20:20 we boarded a train at Riomaggiore and in 12 minutes reach La Spezia.  Our hotel pickup shuttle was scheduled for 21:00, but arrived only at 21:11.  While waiting, we had an interesting conversation with a couple from Australia and another couple from Sweden, who also were waiting for the ride.  We asked the driver to drop us of a bit earlier, so we can have our dinner at Trattoria Igor that we noticed yesterday.  Once again, restaurant name has no Russian links or connection.
For €28 we had a great meal.  Closer to the end, we were the only customers, and received lots of attention (22:20).  It was just a quick 5 minutes walk to our hotel from there.
(Visited 25 times, 1 visits today)
Navigate through the List