Monday, August 18 – Salzburg
Next day on Monday, August 18 I turned on data on my iPhone, and we searched for Rent-a-Car places near Salzburg train station.  It returned 4 places and two were non-existent.  And it missed one place.  But we've got a complete list from Tourist Office.  Now, after examining how Google search works, I realize that I should have been searching for Autovermietung Salzburg Hbf, Austria.  That returned the most hits.  Otherwise, if you search in English, Google returns just one hit and it is in the airport.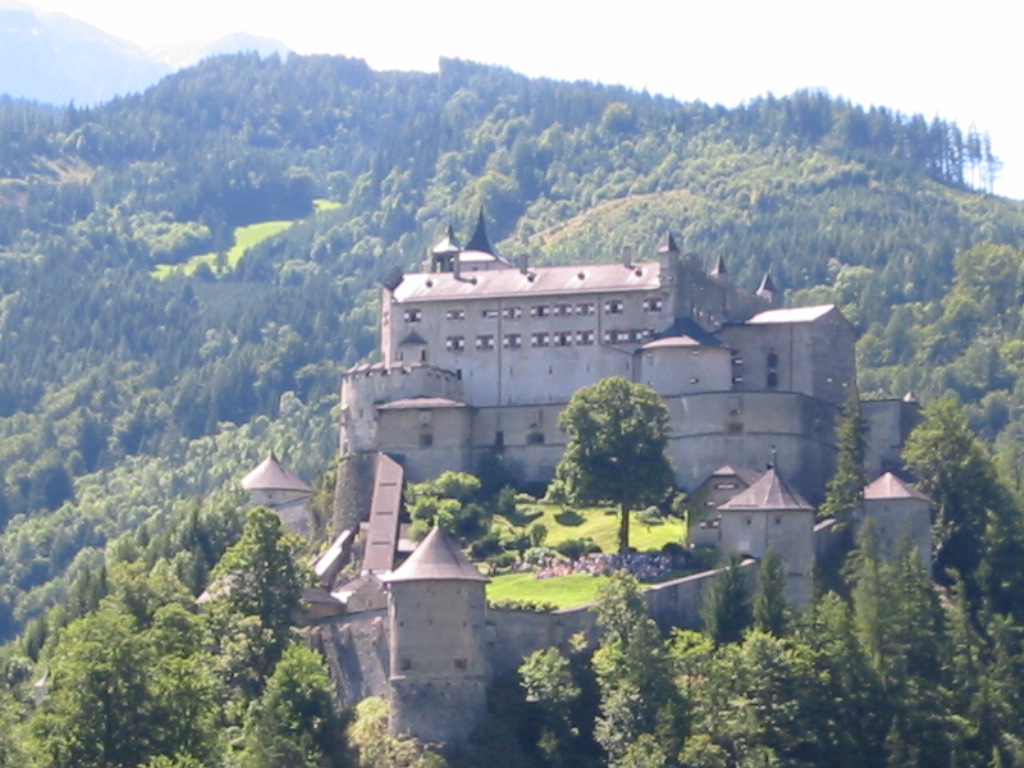 We've got a couple ridiculous offers for 900€ (Euro Car) and 1000€ (HERZ), so we were satisfied to accept a 612€ offer from AVIS with a free option to return to Vienna, instead of Salzburg. We got Opel ASTRA with automatic transmission and unlimited mileage (in our case – kilometer-age). This time I wanted more time to drive and less time to think which pedal to use.
As soon as we exited highway A10, we immediately found ourselves in a differed world.  Again we were sharing a narrow gorge with local road, rail road, river and highway hidden somewhere in a tunnel.  Our target this time was ice caves – Eisriesenwelt. Using narrow local road we begin to climb up.  We ate here in a nearby Berggasthof Zaismann (20€), parked the car and started first 20 minutes leg of our excursion on foot.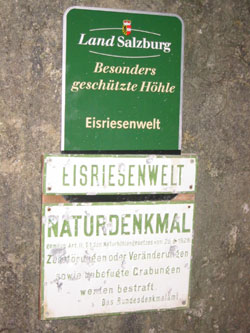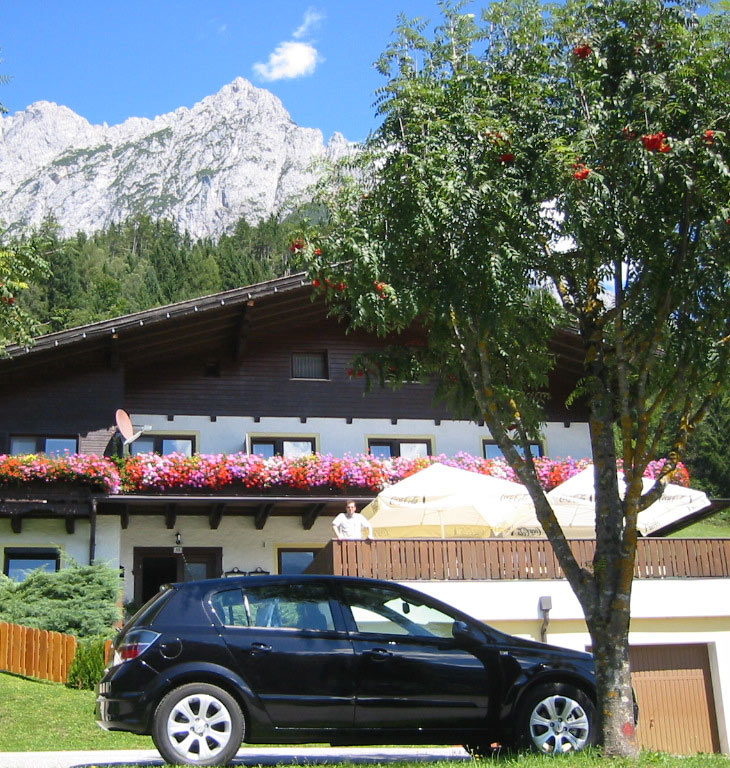 Everything takes longer, when views and vistas are opening up at every turn.  Lift and caves together were 19€ per person.  We jumped from 1100m to 1600m.  Now another 20 minutes walk to the cave.  Here we discovered that they have their own "via-ferrate" – a trail with metal cable to secure climbing.
Just by pure chance last excursion was at 16:45 and we arrived at 16:40. The guide arrange the group by language, gave every other person an oil lamp and we went through "wind" barrier into the cave.  Difference in temperature creates this enormous pressure and cold air is trying to escape thought the cavity.  Most people lost their flames in the lamps and guide had to reignite them.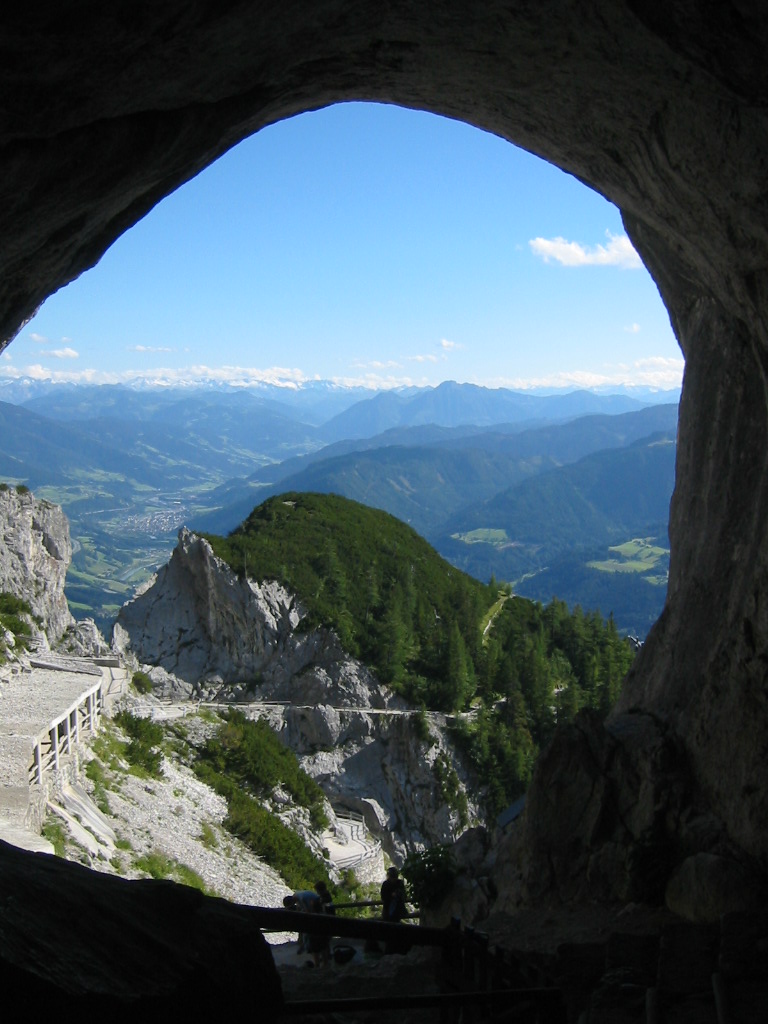 Ice starts right away.  For some unknown reason temperature in this one-kilometer portion of the cave is bellow or close to zero.  Total cave length is 42 km.  There are 700 wooden steps up and 700 steps down the cave.  Ice is in growing stage now and stair has to be raised higher every few years.  There are fantastic ice structures growing from the dripping water.  Cave was discovered only in 1879 and its exploration was slow due to lack of interest.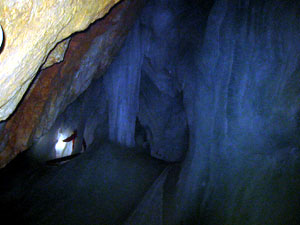 This not an ancient ice trapped by geological movements millions years ago.  It is relatively recent development and only one area can reveal ice as old as thousand years.
The whole excursion lasted for about an hour.  We were dressed in a few layers, with gloves and caps, but true cold is not really sensed due to all the stair-climbing.  Although filming and video taping is strictly prohibited, guide started to encourage both at the middle point in our trip.  For lighting he used  a strange cord that would burn extremely brightly.  If dropped on ice, no melting is visible.  Very interesting. 
We bought a cave map for 1.50€.  On the back side of the map you can see a fragment of topographical map of the area showing a rich network on trails and even other cave entrances that are surely will be fun to explore one day.
We emerged back to sun light at 6PM.  We were about 50 minutes away from our car and no particular plans, where to stay this night.  But we get into "experienced traveler" mode at this point and we didn't even worry about things like having a hotel reservation.
Caves are located near small village on Werfen, and we found a perfect place to stay just a few kilometers down the road – in Pfarrwerfen.  For 52€ we got a room with a balcony, with breakfast, with toilet and shower in a Frühstückspension VOCARIO (Bed and Breakfast Vocario).
(Visited 15 times, 1 visits today)
Navigate through the List