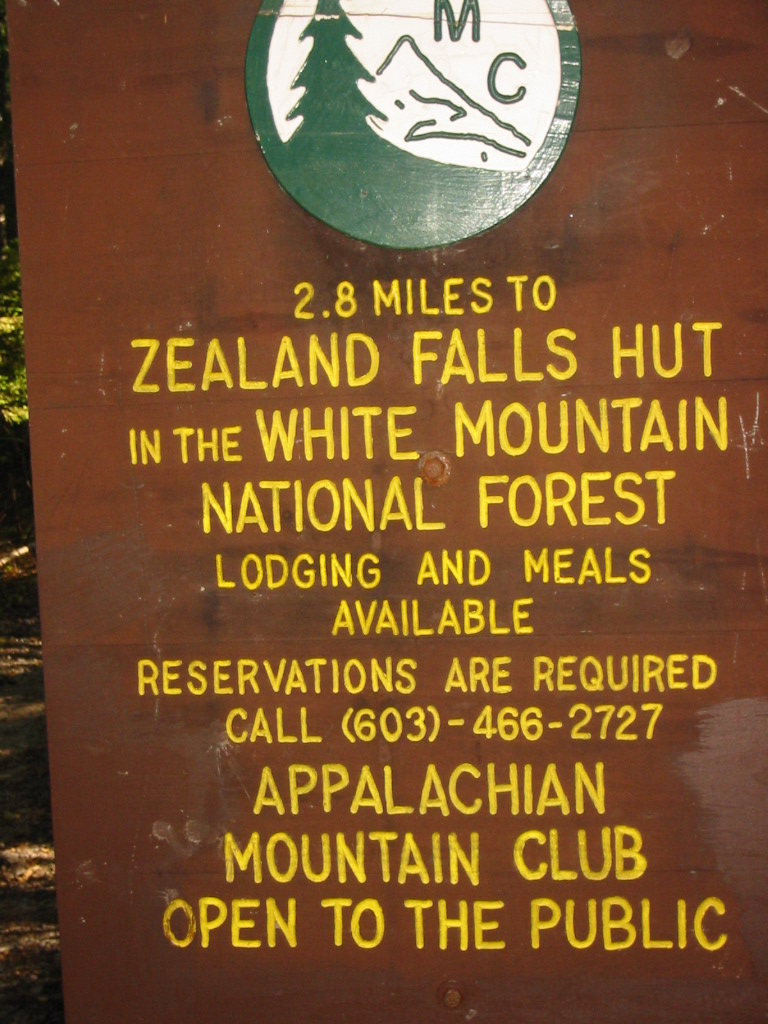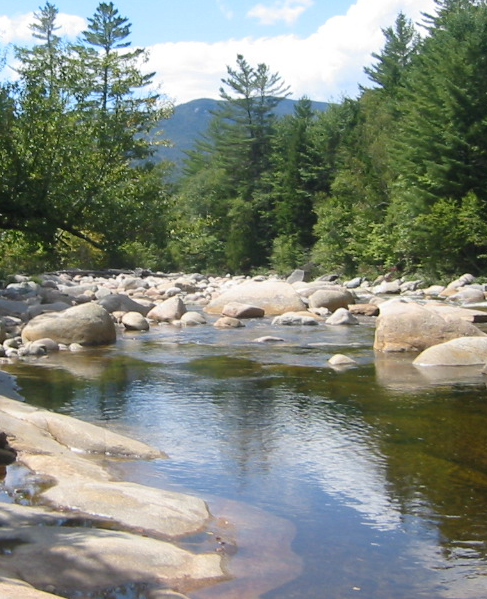 I always looked at a vast green area on the New Hampshire White Mountain map and wondered, what is it in there?  It must be like a jungle in there.  No people, just quietness and tranquility and calm.  But I  could never come up with an itinerary to actually cross it.  By the time you reach it, it is already time to turn back to the car.  It was always calling for me to experience the loneliness and mystery of Pemigewasset Wilderness.  Finally, in September of 2010 I've answered the call of the wild.
I am describing here one possible scenario to cross Pemigewasset Wilderness in White Mountains, New Hampshire, USA.  You would need first preparation day and second actual "Cross the Wilderness" day.
Your point of arrival on the first day should be parking lot at visitor center near Hancock Campground on route 112 (Kancamagus Highway).  That way you can prepare for you arrival here tomorrow.
Your hiking next day should start at AMC Zealand Falls Hut on the edge of Pemigewasset Wilderness. That way you do not need to carry all the food, cooking and sleeping gear.

Points to Consider
– Hut is expensive to stay over Saturday night ($111 and more for non AMC members);
– You need to plan how to get back to your car at the end of Zeeland Road;
– You need to arrive one day before the hike to deposit your bike and one day after to decompress; so only long weekends are good candidates;
– There are no people on that remote "central" potion of the wilderness and there is no cell phone signal; be self-sufficient and stay safe.
To save some money, buy a weekly parking pass ($5) at Lincoln Visitor Center (Exit 32 of 93).  By this time you are 2 hours or 138 miles into your trip, if you are driving from Boston.
Shaver to Go
 
This Shaver comes with:
(1) wall charger,
(2) car charger, and
(3) you can wind it, when there is no electricity around.
This is a perfect travel companion.
Use first (arrival) day to deposit your bike as far as possible into to the woods. The road from Visitor Center over a Lincoln Woods Trail almost flat and bikes are allowed all the way to a camp site – 3 miles that you would be able to ride down and not to walk tomorrow.
Return back on foot to Lincoln Woods Visitor Center and drive all the way around the wilderness to the very end of Zealand Road (off 302).  Note number of miles on your odometer.  According to my notes it is about 33 miles.  Replenish your supplies at Price Chopper in Lincoln.
The best foods are sturdy foods.  Nuts and dry fruit mixes, apples, bread, cans (with a little handle to open).  I stopped taking yogurts on the trail after several "squeeze and pop" accidents in the backpack.
Park at the end of dirt Zealand Road.  You need to walk a quick 2.8 miles, and you can do it just under an hour.  If you leave parking lot at 17:00, you can reach the hut by 18:00.  Perfect timing to catch dinner.  I was able to get a bunk without preliminary reservation on a Saturday night on a Labor Day weekend. They can't take reservation on the day of the arrival. If you call the number on the day of your trip, at least they can tell you, if spaces where available at 1pm. That is the time of a radio conference status update.  In my case 4 spaces were available for walk-in at 1pm.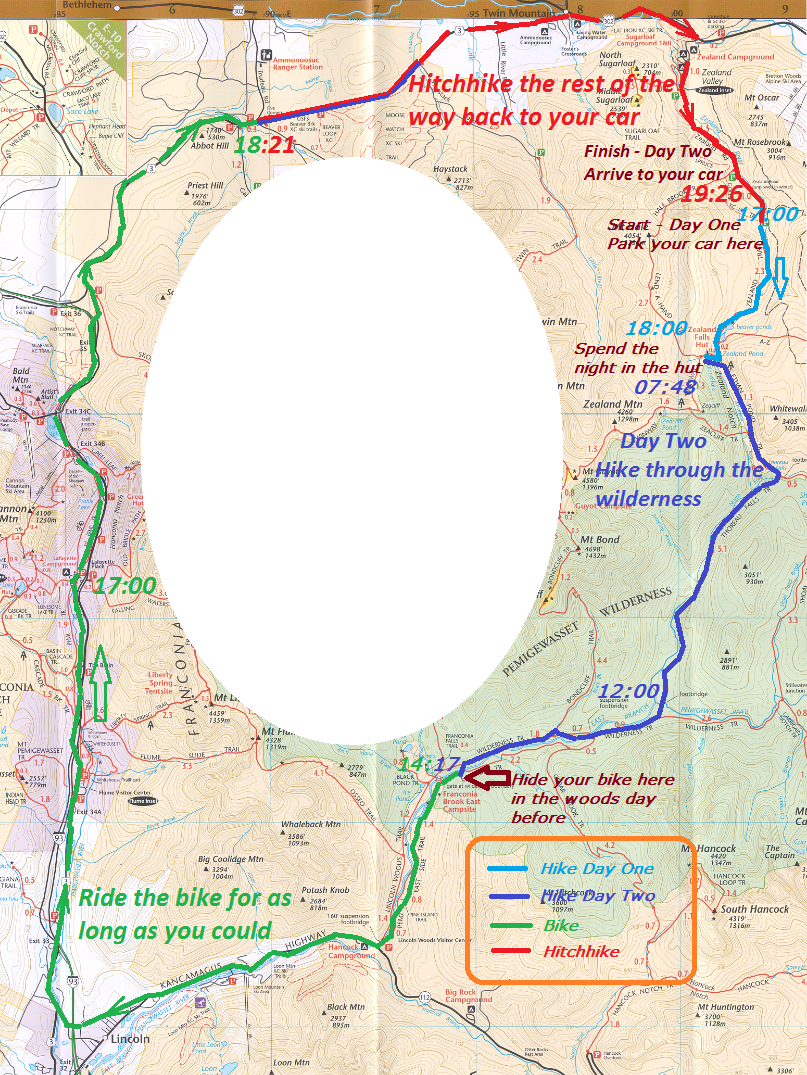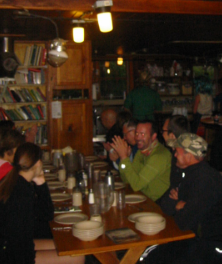 Dinner is served on a 3 large tables that sit 10 people each.  Grab a seat and blend with a crowd. Eat for two.  You go through soup, and salad, and main course and even desert.  Try to hoard excellent bread, because it will not available tomorrow for breakfast.
You do not require to bring your own sleeping bag.  Three rough blankets are provided along with a pillow and a mattress.  Banks are 3 levels tall and they still surprisingly roomy.  Go to bad around 9.  Ear plugs can be purchased for $1 on the spot, by better yet pack you own set along with sleeping mask (goes over your eyes) and flash light that you can wear on your head.
Wake up is at 6:30. Breakfast is at 7:00.  Eat plenty.  Eat a lot.  Oatmeal, and bacon and eggs. There is not set portions and food is provided for the table of 10.  Tea and coffee is unlimited, but bread from yesterday is no longer available.  You are rested, and fed, and all energized to conquer the wilderness right after breakfast.
The easiest and most flat path through wilderness is with Thoreau Falls Trail.  Your task is just cover a lot of miles in one day.  No peaks and almost no fantastic views.  If you start next morning from Zealand Falls Hut at 8am, you can jump out of the woods on the other side by 3pm.  I mean, if you take proper time for pictures, and lunch, and swimming.  That is one other strong positive of this itinerary – you are constantly near water.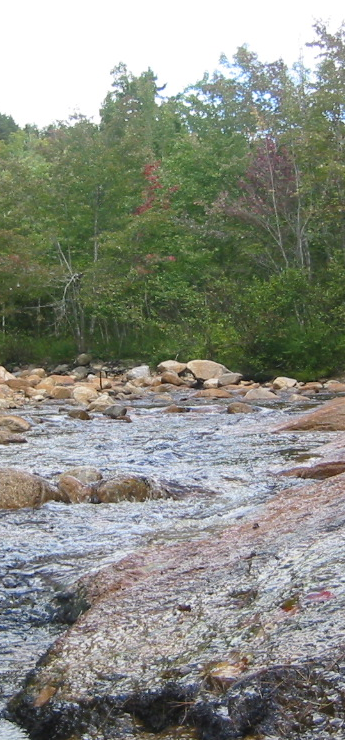 Be prepared to get wet.  Bridges are in poor shape and being removed for safety reasons.  You need a stick in each hand, when crossing streams and rivers.  The best tactic is to through all your valuable stuff on the other side, remove your shoes and socks and cross barefooted.  Even if you slip and fall, all you stuff will remain dry.
You are not getting a good vintage point to see Thoreau Falls. The trail crosses at the top of the falls, and all you see is a torrent stone walls bellow. After that is over 5 miles of uneventful wooded path and not a single hiker is insight.  You are alone.
Closer to 12PM you finally reach the old foot bridge and Wilderness Trail on the other side.  Now you have better chances to meet fellow people, especially if you cross the river and stay on Wilderness Trail.  East Branch Road is still very quite.
Wilderness Trail is a former rail road bed.  It is very easy and straight. Problem could arise only, when you need to find a way around missing bridge.  But now you a getting closer to civilization.  Somewhere here your bike is hidden and you are just a 3 miles away from the highway.
You did it.  You emerge jubilant on the other site. You crossed the wilderness.  But now, how do you get to your car?  You can ride the bike for 3 hours to cover 33 miles, or you can dump the bike and hitchhike 4 legs of the way: first to Lincoln;  then across Franconia Notch State Park; then on route 3 to Twin Mountain; and finally 3.5 miles on Zealand Road.
(Visited 30 times, 1 visits today)